The Russian Navy Slava Class or Project 1164 Atlant Guided Missile cruiser RFS MOSKVA 121 that was damaged in an explosion last Wednesday 13th April sank while she was being towed to a safe port on Thursday 14th April, 2022.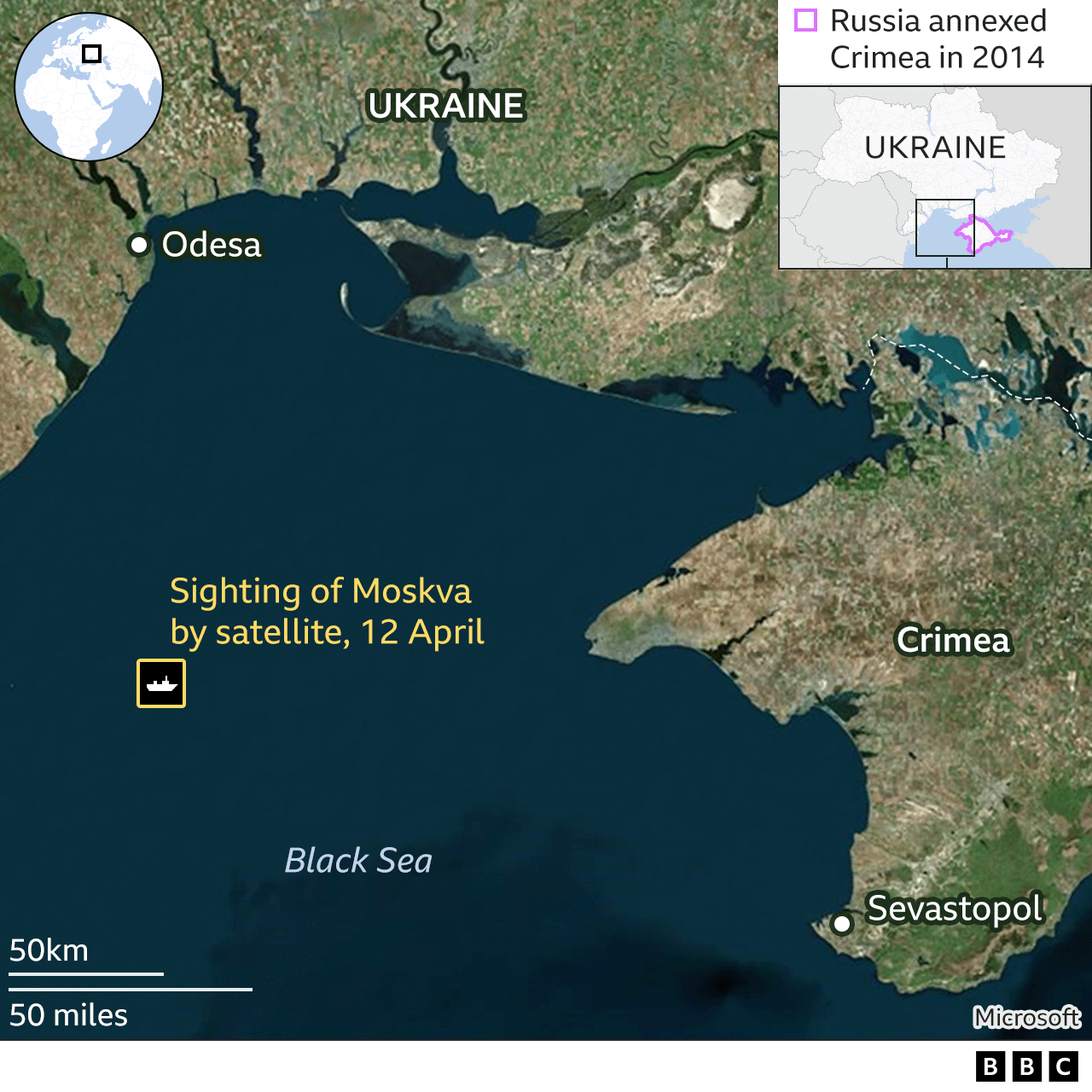 TASS reported "The cruiser "Moskva" sank while being towed in a storm – Russian Defense Ministry…. During the towing of the Moskva cruiser to the port of destination, the ship lost her stability due to damage to the hull received during the fire from the detonation of ammunition. In the conditions of stormy seas, the ship sank," the military department said. "Neptune missiles guarding the Black Sea caused very serious damage to the Russian ship. Glory to Ukraine!" Odesa regional governor Maksym Marchenko said.
The crippling of the Moskva is "quite a serious blow, I would say, to the morale of the Russian navy and the Russian armed forces in general", FRANCE 24 chief international affairs editor Robert Parsons said, reporting from Kyiv. "All those Russian ships on the Black Sea now will know that they are in range of Ukrainian missile fire," Parsons continued. "That is potentially a ground changer – and certainly will put in serious doubt the possibilities of a Russian amphibious attack against the city of Odesa in the south of Ukraine."
Russia said the crew of its Black Sea fleet flagship was evacuated and measures were being taken to tow the stricken ship back to port after an explosion of ammunition on board that Ukraine said was caused by a missile strike. Russia said a fire aboard the Moskva, a warship that would typically have 500 sailors on board, forced the crew to evacuate the vessel but made no mention of an attack.
On the first day of Russia's invasion of Ukraine last 24th February, RFS MOSKVA gained notoriety after calling on a small garrison of Ukrainian border troops defending Snake Island in the Black Sea to surrender – to which they memorably radioed an expletive-laden message of refusal Originally built in the Soviet Union era she entered service in the early 1980s. The vessel was actually laid down in Ukraine's southern city of Mykolaiv, which has been heavily bombed by Russia in recent days.
Watermarked Photos are by Capt. Lawrence Dalli otherwise stated. NO PHOTOS can be used or manipulated without our permission. © All rights reserved. Malta Ship Photos & Action Photos – www.maltashipphotos.com
Published – Friday 15th April, 2022